Administrator
Staff member
PIRIOU has developed 100m cable vessel
In order to further penetrate new markets, PIRIOU has developed a new cable layer vessel, designed to lay and repair both fiber-optical and energy cables. This vessel will be able to lay cables on wind farms as well as repair a damaged cable on the continental shelf or deep sea.
As PIRIOU's recently awarded hydrogen hybrid CTV, this high-tech product perfectly fits the group's strategy and answers our customers' requirements to make maintenance operations easier, to optimise operating costs and answer safety and new environmental regulations issues.
Vincent Faujour, PIRIOU Group C.E.O. says: 'This project represents one year of intense teamwork for PIRIOU INGENIERIE design department. The result reflects their commitment and allows us to widen our product range with the cable vessels segment'.
The vessel is entirely designed and developed by the Piriou Ingenierie teams in Concarneau-France.
Main characteristics
Length overall ……………………..….…... 100 m
Breadth overall ………………………..….. 18 m
Max. speed ……………………………… 14.5 kn
Max. deadweight ……………………..…… 2100 t
Power .…………............................... 3 200 kW
Range ……………………………….. 35 days or 10,000 miles @ 12 kn
Crew …………………………………..….. 49 pers
Special personnel………………………… 27 pers
Kilde: Piriou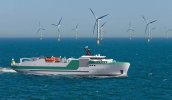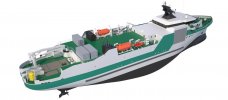 Begge illustrasjoner: Piriou