Administrator
Staff member
#441 – " S E R E N E "
Owners Serene Fishing Co Ltd has placed an order for the newbuilding of a 82,00 x 17,20 m Pelagic Trawler with Karstensen Shipyard.
#441 will be named SERENE and is owned by a 7-men partnership from Whalsay in Shetlands Islands, UK. This partnership dates back to 1969, when first newbuilt "Serene" was commissioned. At that time, the partnership was headed by legendary skipper Magnus "Mackie" Polson. Today 3 of the original partners remains, and the company is headed by skipper Bobby Polson. The 7 partners are: Bobby Polson, Tommy Eunson, David Shearer, Leonard Polson, Gilbert Williamson, Bryan Sutherland and George Polson.
Serene Fishing Co Ltd had newbuildings delivered in 1995, 1998 and present "Serene" was commissioned in 2009. This vessel will now be sold to Norwegian Owner, Henning Veibust, for delivery in February 2017.
Owners and Yard have a well-established and long-standing relationship, with virtually all maintenance works on present "Serene" being carried out by Karstensen Shipyard.
Karstensen Shipyard is delighted with this new contract. Like other pelagic newbuildings currently under construction at Karstensen, this vessel is an in-house design. Karstensen Shipyard has, for the time being, orders for no less than 10 pelagic vessels, which are to be delivered throughout the next 3 years. Karstensen Shipyard offers a complete concept, where all solutions are optimized and tailor made to customer specifications and requirements. Karstensen is independent of all suppliers, which makes such an optimization very flexible.
Despite the long standing relationships between Owners and Yard, this newbuilding still represents a major breakthrough for Karstensen Shipyard, as it will be the first pelagic newbuilding delivered to Owners in Shetland. Thus the contract only emphasizes the Yards position as the prime designer and builder of larger pelagic fishing vessels.
The vessel will be a top modern pelagic trawler. The vessel design, specification and arrangements is a result of an extensive and close cooperation between Owners and Yard. Main focus has been set on optimizing working, safety and comfort for the crew, optimizing catch handling- and storage facilities and optimizing of fuel consumption. The new vessels will operate along the same pattern as the existing vessels, ie with pelagic trawl fishing. Main species being targeted are mackerel and herring.
In order to reach above targets, the ships will be outfitted with all the newest machinery and equipment, and suppliers have been chosen carefully to match specification and requirements.
MAN has been chosen as supplier of the propulsion plant, including a 12VL32/44 CR main engine. This will be the first slow revving main engine in Shetland/Scotland with common rail fuel injection system. The propeller design will be optimized to the specific service profile of the vessel, with rpm's between 110 and 135. This will ensure optimized bollard pull for trawling, as well as good free-sailing characteristics.
MAN will also supply the 2 heavy duty main auxiliaries, each unit driven by a MAN 6L21/31 engine. In addition, the vessel will be fitted with 125 respectively 250 kW harbour- and emergency gen-sets.
Based on first-hand experience, Owners has chosen Karmøy Winch as supplier of the full deck machinery package, including heavy-duty 90t trawl winches and 110t net drums.
New SERENE is scheduled for delivery in June 2018. Price indication: DKK 230m / EUR 31m / GBP 23,5m
Main dimensions:
Length overall 82,00 m
Breadth moulded 17,20 m
Depth 1st deck 12,35 m
RSW-volume 2900 cum
Main equipment:
Main engine MAN 12VL32/44 CR
Gearbox 2-speed, Scana Volda
Propeller d4500mm, Scana Volda
Main auxiliaries 2 x MAN 21/32 1250 kWe
Winch- and crane systems Karmøy Winch
Thrusters Brunvoll, 2 x 1300 kW
RSW-plants Johnson Controls, 2 x 1471 kW
Vacuum plant Iras, 4 x 66 kW / 2 x 4200 l tank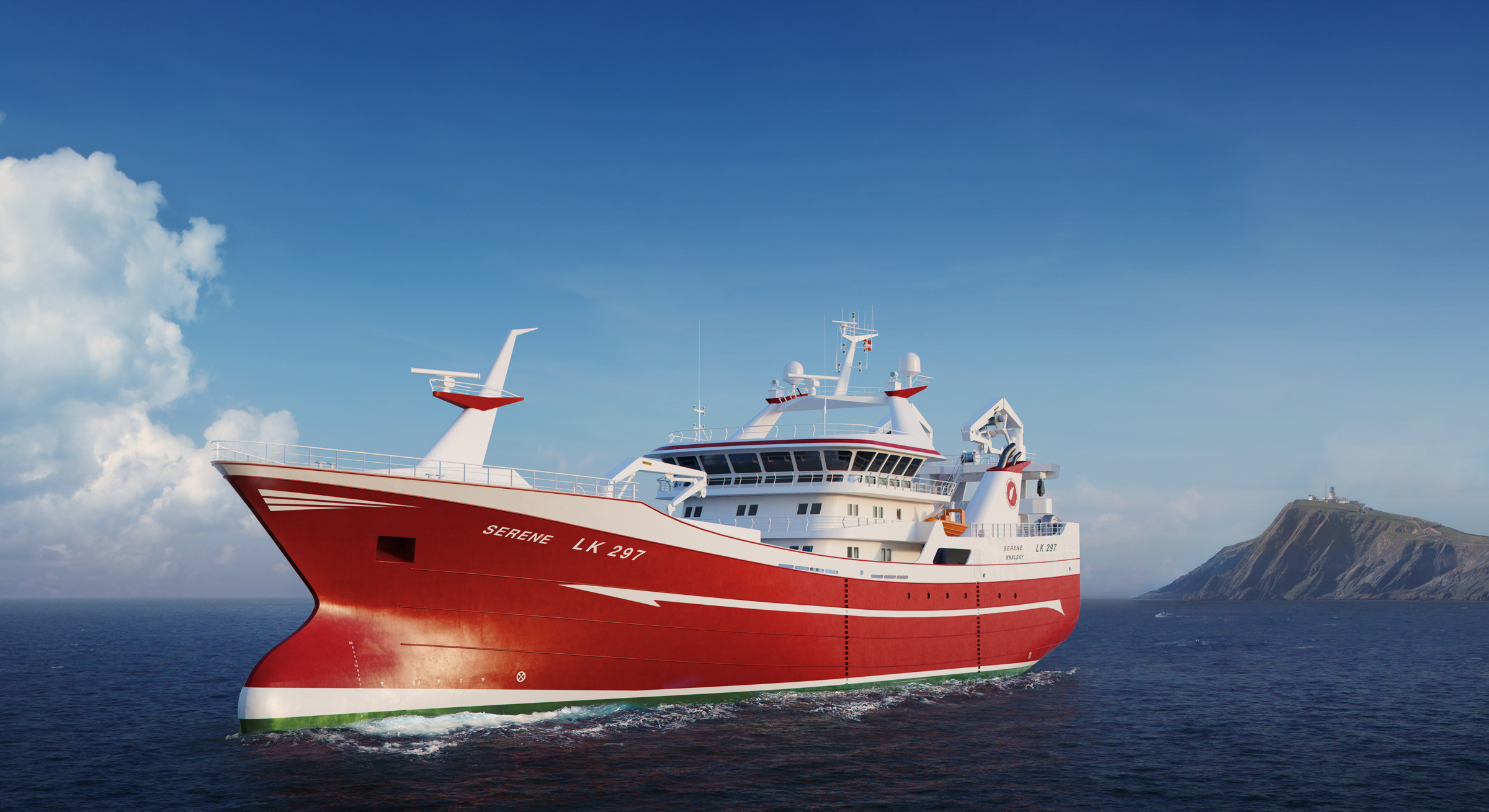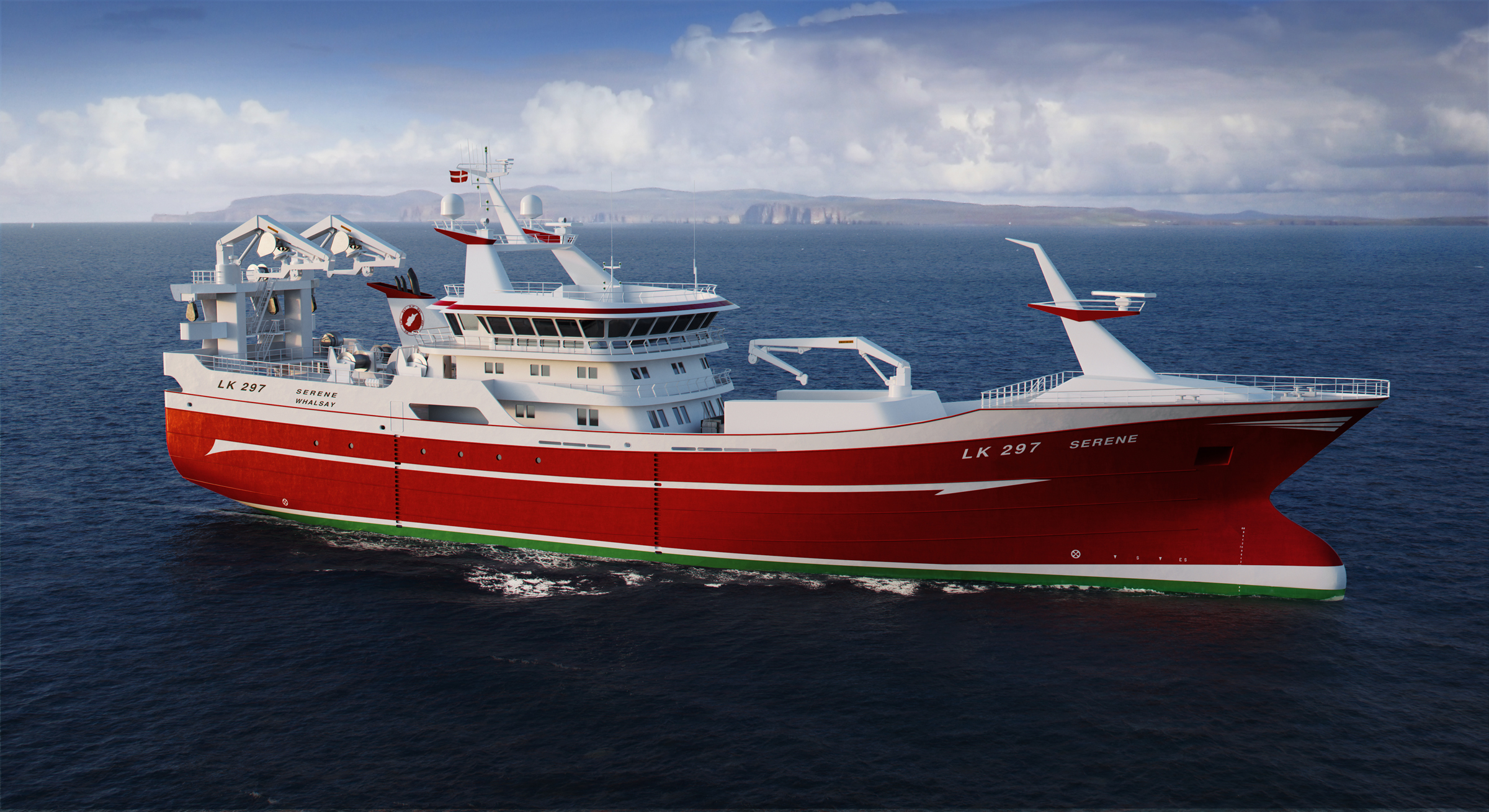 Begge illustrasjoner: Karstensen Skipsværft