Administrator
Staff member
FUTURE OF THE FJORDS
Ny helelektrisk katamaran bygges i Gloppen
Et nytt passasjerskip i karbonfiber er under konstruksjon i Sogn og Fjordane. Katamaranen Future of The Fjords tar 400 passasjerer og er kun elektrisk drevet.
Til forskjell fra søsterskipet Vision of The Fjords vil skipet kun bli drevet med elektriske motorer – i alt to stykker som hver er på 300 kilowatt. Hastigheten er 16 knop.
Skipet skal leveres i april neste år og skal trafikkere samme rute i Nærøyfjorden som søsterskipet, som for tiden er på besøk i Oslofjorden. Søsterskipet ble kåret til «Ship of The Year» i 2016.
700 turer i året
Det 42 meter lange karbonfiberfartøyet bygges hos Brødrene Aa i Hyen i Gloppen kommune i Sogn og Fjordane. Det lokale Aurland Energiverk er involvert for å utvikle en infrastruktur for lading som skal kunne gjøre det mulig å gjennomføre 700 turer årlig med skipet
Næringsminister Monica Mæland (H) var til stede da skipet ble presentert torsdag ettersom det statlige selskapet Enova støtter prosjektet med et tilskudd på 17,8 millioner kroner.
Å utvikle et helelektrisk skip koster mye. Prislappen på Future of The Fjords ligger på 144 millioner kroner, en del mer enn Vision of The Fjords, der sluttsummen ble 90 millioner. Søsterskipet som ble satt i drift i fjor er da også en hybridversjon som kan skifte mellom elektrisk framdrift og dieselmotorer.
Begge skipene er bygget for turistformål på ruten mellom Flåm og Gudvangen i Nærøyfjorden. Det er rederiet The Fjords som eier skipene. Rederiets to hovedeiere er Flåm AS og fergeselskapet Fjord1 AS.
Kilde:
Teknisk Ukeblad
"Future of the Fjords"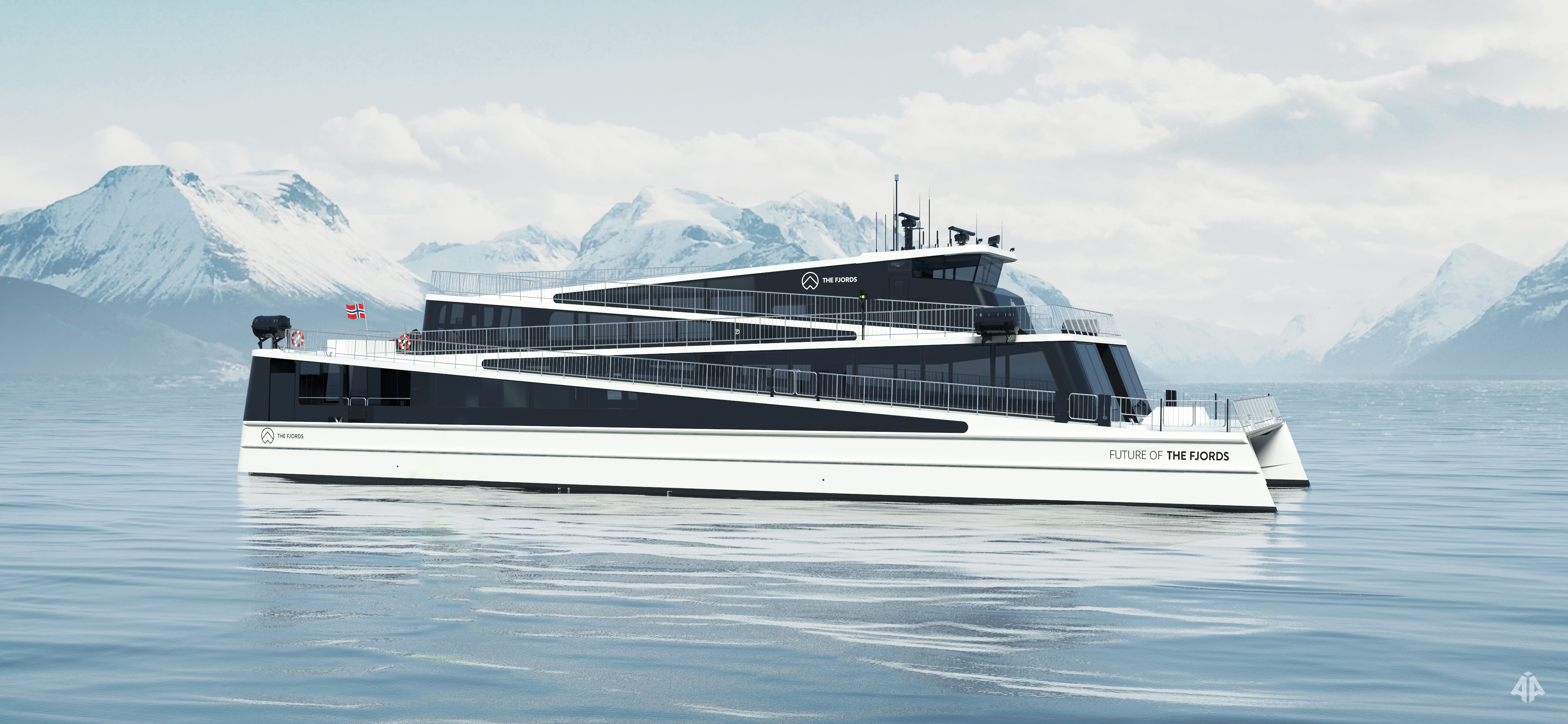 Illustrasjon: Brødrene Aa