DFDS bestiller nye færger
To store ro/pax-færger til Østersøen er bestilt til levering i 2021
Det bliver Guangzhau Shipyard International, der skal levere de første nybyggede færger, udviklet til DFDS i mere end fire årtier. Den store danske færge- og shortsea-operatør meddeler således i dag i en selskabsmeddelelse, at der er indgået kontrakt med det kinesiske værft på to 4.500 lanemeter og 600 passagers store ro/pax-færger til levering i henholdsvis første og tredje kvartal 2021.
De to nybygninger skal ifølge selskabsmeddelelsen indsættes på DFDS' Østersømarked i den del af rutenetværket, som enten forbinder Sverige eller Tyskland med Litauen. DFDS' største ro/pax-rute på Østersøen er i dag mellem Kiel og Klaipeda.
- Denne investering afspejler vores tro på en fortsat stærk udvikling i den baltiske region. De nye skibe vil gøre det muligt for os at forbedre service-niveauet for alle vores kunder og samtidig gøre rutenetværket mere effektivt, også miljømæssigt, udtaler Niels Smedegaard, CEO i DFDS i forbindelse med kontraheringen.
Investering på 1,8 mia. kr.
Niels Smedegaard oplyste i sidste uge efter årsregnskabet til Søfart, at han forventede en beslutning om ro/pax-nybygninger i 2. kvartal – en beslutning, som altså nu er truffet.
DFDS meddeler endvidere, at investeringen i de to skibe udgør omkring 1,8 mia. kroner. Skibene bygges med scrubbere, som er den teknologi, DFDS har valgt til at opfylde svovlgrænsekravene i ECA-zonen, som også inkluderer Østersøen.
Sidste gang DFDS kontraherede en færgenybygning, udviklet specifikt til dem selv, var tilbage i 1975, hvor 'Dana Anglia' blev bestilt til Englands-ruten ved Aalborg Værft.
FAKTA om de to nye ro/pax-færger
Længde o.a.: 230.00 m
Længde b.p.: 224.50 m
Bredde: 31.00 m
Passagerer: 600
Besætning: 62
Lanemeter: 4500
Servicefart: 23 knob
Passagerkahytter: 250
Passagersenge: 690
Besætningskahytter: 62
Bruttotonnage: 54,900
Stern ramps and internal ramps
Scrubber
EEDI compliant
Ice 1C
Kilde:
Soefart.dk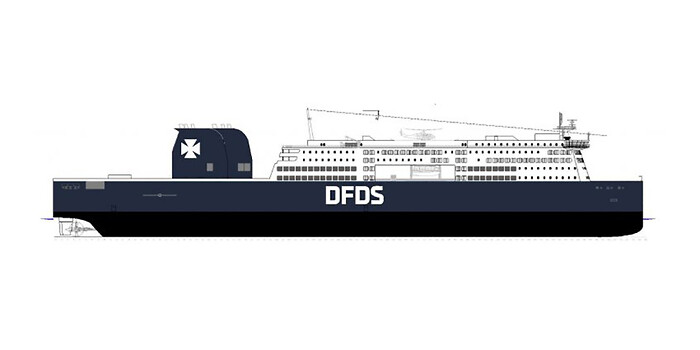 Illustration: DFDS