Administrator
Staff member
VARD SECURES CONTRACT FOR THE DESIGN AND CONSTRUCTION OF ONE KRILL FISHING VESSEL FOR AKER BIOMARINE
Singapore, 14 February 2017 – Vard Holdings Limited ("VARD"), one of the major global designers and shipbuilders of specialized vessels, is pleased to announce that it has secured a contract for the design and construction of one krill fishing vessel for Aker BioMarine in Norway.
The new and innovative vessel of VARD 8 10 design is specially developed for sustainable fishing operations in Antarctica. The vessel will measure 130 meters in length, have a beam of 23 meters, and will be equipped with state-of-the-art technology for environmentally friendly operations.
Webjørn Eikrem, EVP Production and Supply Chain in Aker BioMarine says: "The new krill vessel will be equipped with the latest and most advanced technology. All plans and specifications are developed in cooperation with fishermen from Aker BioMarine and engineers from VARD. The vessel's operations will be energy efficient, with a bio-refinery capable of processing raw krill material in the Antarctic."
Delivery is scheduled from VARD in Norway in 4Q 2018. The hull of the vessel will be built by Vard Tulcea in Romania. The contract is still subject to certain conditions, including customary financing conditions.
CEO and Executive Director Mr. Roy Reite commented, "This is a very exciting fisheries project that we are really looking forward to work with. We have developed a range of innovative vessels together with our good relations in Aker since the 1980s, and also this project is built on good cooperation and complementary expertise within fishery, ship design and technology."
Aker BioMarine is a biotech- and fishing company dedicated to securing human and planetary health. The company develops krill-based ingredients for use in nutraceuticals, aquaculture and animal feed. The company supplies biomarine ingredients through a 100% traceable supply chain that it also owns and controls. Aker BioMarine was the first krill company to be awarded Marine Stewardship Council (MSC) certification.
VARD 8 10 Overall length: 129.6 m | Breadth: 23 m | Krill Fishing Vessel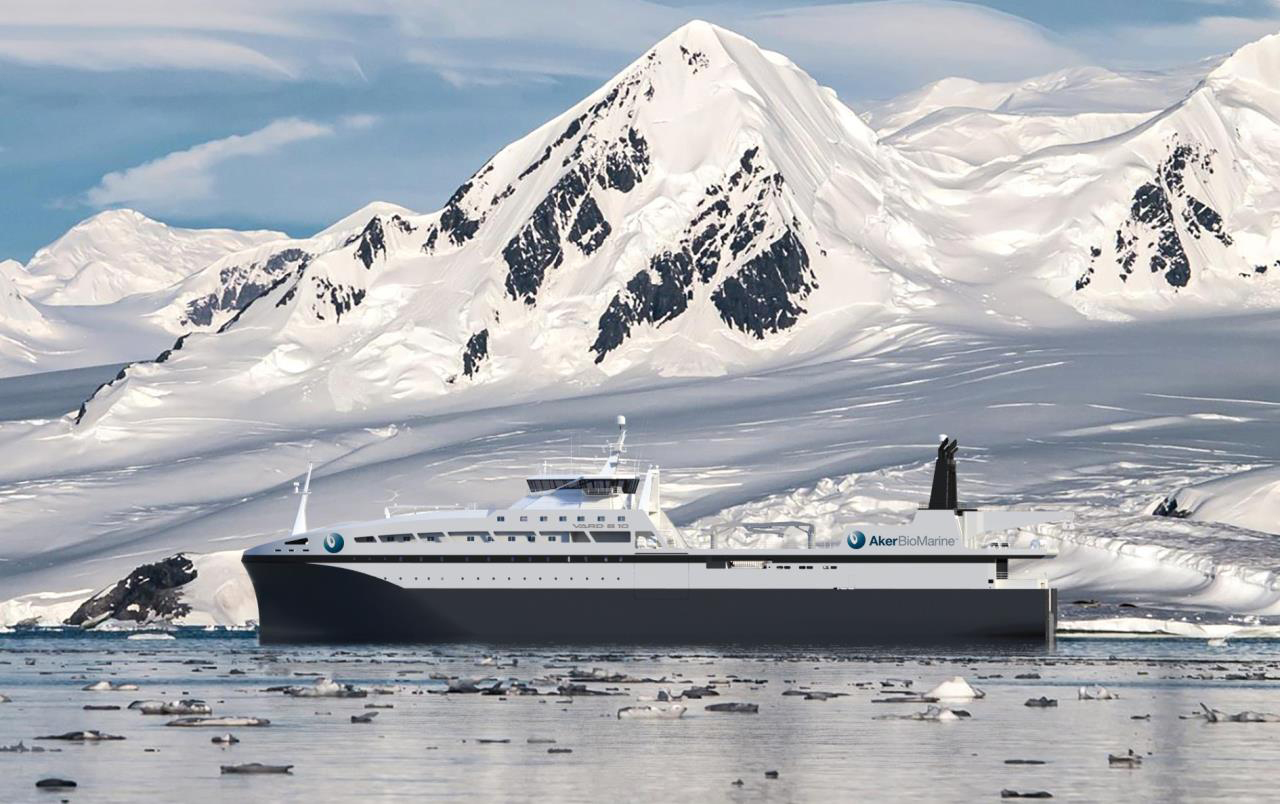 Illustrasjon: Vard