Administrator
Staff member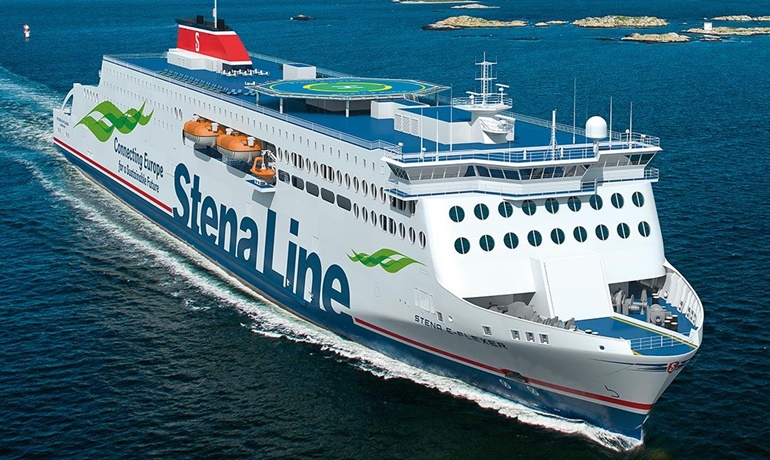 The third ship in the E-Flexer series will be delivered with a Brittany Ferries livery © Stena AB
Brittany Ferries confirms charter of Chinese-built E-Flexer from Stena Ferry
In a telephone interview with Shippax, Brittany Ferries has confirmed that they will charter the third ship in Stena's E-Flexer series to be built at Avic Weihai in China.
"We have signed a five-year bareboat charter agreement with an option to extend the charter or purchase the ship," Christophe Mathieu, Brittany Ferries' CEO, told Shippax.
In Stena's typical 'can-do philosophy', the 927-passenger ship will be tailored to Brittany Ferries' needs and will get extra cabins, although the 3,100-lanemetre intake will be retained.
"Stena was willing to make modifications in the accommodation and adapt the ship to our requirements," Mr Mathieu added. "The ship will get a typical Brittany Ferries touch but it is unknown who will be in charge of the interior design."
Although built as gas-ready, Brittany Ferries decided to install scrubbers on the newbuilding. The 212m by 27.8m ro-pax will replace the DFDS-owned BAIE DE SEINE, the charter of which expires in April 2019 with no option to have it prolonged.
Yard delivery of the Stena ro-pax is expected in early fall 2020, i.e. about 1.5 year after the BAIE DE SEINE will have been handed back to DFDS. As a stopgap solution, Brittany Ferries might replace BAIE DE SEINE by NORMANDIE or ETRETAT. The latter ship is already on charter from Stena RoRo whereas NORMANDIE will be replaced on the Ouistreham (Caen)-Portsmouth route by the new HONFLEUR, due to be delivered from Flensburger Schiffbau-Gesellschaft in June 2019.
BAIE DE SEINE currently serves both Le Havre and Spain from Portsmouth, but Christophe Mathieu told Shippax that the new Stena ferry will serve Spain from Portsmouth, although no decision has yet been taken whether this will be Santander or Bilbao.
Stena ordered four E-Flexer-Class ro-paxes in April 2016 with an option for another four vessels. All four ships were initially earmarked to operate from the Belfast hub but Stena has meanwhile reviewed its plans and will take over the chartered Belfast-Cairnryan ferries STENA SUPERFAST VII and VIII from the AS Tallink Grupp in December.
This week construction has officially started with the steel cutting for the first E-Flexer which should be delivered in 2019.
© Shippax / Philippe Holthof
Kilde:
https://www.shippax.com/en/news/bri...ter-of-chinese-built-e-flexer-from-stena.aspx