An old Laker that is still in operation (??):

Originally a C-4 converted to a Laker, then to an ATB:
Here is the Joseph H. Thompson barge being pushed by the Laura L. VanEnkevort tug just now at 3pm today 12/9/20 heading into the MacArthur Lock in Sault Ste Marie MI.:
The latest push tug Laura L. VanEnkevort pushing her barge Joseph H. Thompson into Grand Haven, Michigan, May 2020.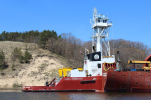 Photo by Sam Hankinson